Lately, I've been fielding many questions from friends, acquaintences, and people I've barely even met alike on the subject of shoes, and which styles I prefer for this season.
Now, I love when people shoot questions like this to me, because I think that it opens up a wonderful debate on the topic of personal style. I have always emphasized one thing:
The only person who you need to answer to about how you dress is you.
Anyone reading this needs to realize that while I will offer my educated personal opinions on style, beauty, taste, and design, ultimately they are only opinions.
With that being said, I now offer forth:
THE BEAUTY BLOG'S SIX COMMANDMENTS OF SHOES
Spring, 2006
six: Thou shall not wear flip-flops. (Unless on the beach)
Flip flops have become all too acceptable in our culture, and as such, are being sported with some very unacceptable outfits. Ultimately, flip-flops make any outfit look sloppy and unkempt. If you are addicted to these free-feeling footwears, opt for a pair with embellishments, such as buttons, small shells, etc, and definitely NOT made out of that cheap, could-be-plastic-but-maybe-we-shouldn't-ask foam substance.
I suggest...
Mossimo Psyche Jeweled Flats
, $19.99 at Target.com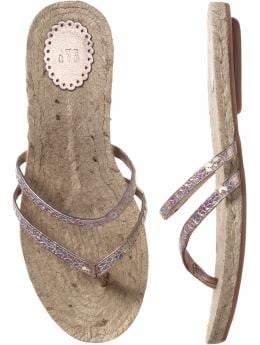 Sequin Jute Sandals
, $19.50 at Gap.com
five: Drop the UGGs, sister.
UGG boots had their time and their place as a fad. That time has passed, and that place is lost somewhere back near the Sundance Film Festival. I realize that Britney, Jessica, and Paris are still wearing theirs, but since when do we want to be like Britney, Jessica, and Paris? Trashy husband, Divorced, Sex Tape. Enough said. Moving on...
four: For a little height, try wedges.
These fun, flirty shoes are a much more casual replacement for the sometimes all-too-prim look of tall heels. Wear them with a full skirt in a light material, with bermuda shorts, or with any other outfit where heels just might not fit. They come in all different styles from super casual, to formal. I've posted some examples of good styles.
I suggest...
For a super casual look, try:
Xhiliration Tillie Wedges
, $19.99 at Target.com
For a semi-formal look, try:
Mossimo Paisley Silver Rope Canvas Wedges
, $22.99 at Target.com
For a versatile look, try:
Xhiliration Tan Asia Wedge
, $11.89 at Target.com
For a formal look, try:
Mossimo Pryce Cork T-Strap Metallic Wedges
, $24.99 at Target.com
three: Pedicures are a necessity. (But skip the spa and save some money)
While this isn't technically a shoe style, it is an absolute must for foot-exposing style, especially as we come out of a cold, dry winter. Banish dry, flakey skin by buying a shower loofa (that mesh poof on a rope) from your local drugstore. Use it only on your feet in every shower. Immediately after the shower, massage a heavy moisturizing cream. Applying it while your skin is still slightly damp is key, as it will lock in natural moisture.
At night, invest in...
Bliss Softening Socks
, $48 at Sephora.com
Just slip one of the two included pairs on while you sleep, and let the polymer compound do the dirty deed. Each pair gave me roughly a month of almost-nightly use.
two: Hide imperfection with leggings.
Not feeling comfortable with the state of your legs just yet? That's fine, just jump on the leggings fad-wagon and pick up a few bright, spring-y colors such as lime and turquoise, but also pick up a few good basics such as grey, taupe, and brown. More curvaceous women should focus mainly on the neutral colors, and buy brighter hues only with discretion. Wear them best with anything that has a dangerously short hemline: skirts and shorts mostly. Try Target, AE, Abercrombie, or any department store.
If leggings aren't your thing, don't be afraid to take your makeup to your legs. Rub a small dab of foundation (liquid or creme will work best here)onto any leg discoloration problem spots about 5-7 minutes after moisturization. Make sure, though, that the foundation matches your leg color. Often times the face and legs are two extremely different colors. Don't be afriad to stop in to your local Sephora or Ulta store and try it out on your legs, the consultants there will know what you're doing, and probably be suprised that they didn't need to suggest it themselves.
one: Deck shoes, Deck Shoes, Deck Shoes!
Known more widely as "slip-ons", these casual shoes are comfortable, versatile, simple, and best of all, they look totally stylish with any look. Jeans, skirts and shorts of any length, capris, gauchos, bermudas, and even with your swimwear are all made even cuter with a well-coordinated pair of deck shoes.
I suggest...
Cherokee Estella Twin Gore Canvas Shoes
, $12.99 at Target.com